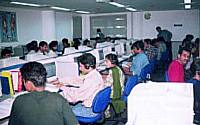 CARE : The download window may hide behind the main window, after appearing.
Download
SPEEDATA
NOW (about 100kb) Manual included.
The small size is due to extensive Assembly Language use. This will run like lightning even on a vintage 4.77Mhz 2 drive PC
*
. The reason is again Assembly Language for the keyboard handling. Has been in use for at least 10 years in some installations . Overcome the initial learning period (3-4 days at most ) and see your efficiency/profitability rocket.
You can take our word for it if you want to make your data entry operation more efficient , this
will
do it. And yes you can pester
us
with e-mails to get you started or to help you evaluate this. This is probably tailor made for you if your off-line Data entry terminals are reaching the end of their life. ( Will replace Tartans, IBM 3742s, Uptron 810s, HCL 7600 etc. )