Some lights are already up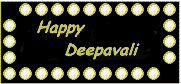 It is possible that you don't know that there is more to the Diwali lights than just lights. How much area is lit up? Is there no area illumination up? These indicate the mood. If the economic outlook is not very bright then no lights are put up at all. Sometimes they are not put up even if there is a death in the family of one of the shop owners/keepers. Most of the shopping gets done before Diwali. When the lights are on in their full Grandeur then people just walk around as if in a Mela. Who provides the Electricity ? Generators of course. Not many towns have such widespread illumination, I understand Karol Bagh in Delhi comes close.
The weather could not be better. Not more than 35 in the day, and 15 - 25 the rest of the time.


---
Read previous ones
September, August, July, June, May, April, February , January
---